Carolyn's Biography

Carolyn Margaret Elmer was born on May 29, 1928 in Detroit. Her parents, Ina and Clayton Elmer, lived on W. Grand Boulevard in Detroit. They moved to Nona St. in 1930. Carolyn had one sister, Marjorie. Clayton built the house on Highland Drive in Dearborn when Carolyn was three years old. They lived on Highland along with their cat, Corkie. Clayton worked at Ford Motor Company and Ina raised her children and kept a beautiful home.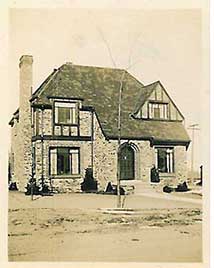 Greenfield Village
Carolyn and Marge both attended Greenfield Village Schools through high School. Carolyn loved going to school at the Village. Henry Ford believed in an arts enriched, hands on education. Carolyn's classes were in the historic buildings and museum including the McGuffey School, where her class was the first to use this building. She attended daily chapel services in the beautiful Martha Mary Chapel where students recited poems and sang songs such as Stephen Foster's compositions. The students had regular art classes and this is where Carolyn began weaving.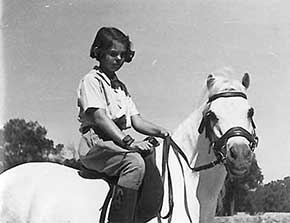 Carolyn rode horses, participated in the county fairs, put on plays, learned how to square dance and danced regularly at Lovett Hall. She had swimming and gym and walked all over the Village to get to different buildings for her classes. Carolyn was a captain of the girl's basketball team, could do a "one and a half" off the diving board, was a gymnast and could walk on her hands even in young adulthood! Her favorite teacher at the Village was Bernie Cadaret. She spent time with Bernie both in Dearborn and Florida for many years.
All the children worked in the afternoons and summers. Carolyn remembers working her garden on Village Drive. Her father helped both her and Marge with the weeding and care, the carding mill, the office (her least favorite) and guiding at the museum and in the Village. One job was cutting and pasting Little Orphan Annie comic strips into a scrapbook for Mr. Ford!
Carolyn had many friends from her class of 1946 that she has stayed in touch with over the years. These include Virginia Gunning, Patsy Damon, Lee Wadell, Evelyn Zannis, Jack Dulmege and Jim Barbier and many others. Her husband of 18 years, Dick Hoedl, was in Carolyn's class in the first grade. She stayed in touch with him at reunions over the years and they eventually married in 1984 and moved to Florida.
Weaving at Greenfield Village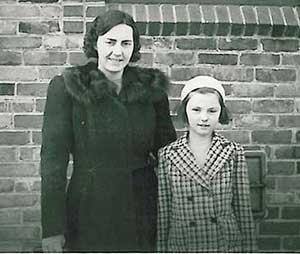 Carolyn began weaving at age six on a small table loom. She then moved on to a larger four harness table loom. She even built a table loom with the help of a woodworker in the Village. She sold it a bit later and used the money to buy a red purse and shoes! In seventh grade, she began weaving on a floor loom with foot treadles.
She remembers weaving a tufted rug along with her classmates as a gift to Mrs. Ford. All the students recorded how many rows they had woven. Carolyn wove as many rows as all of her classmates combined! Carolyn wove after school and many days in the summer. Mr. Ford encouraged children to "work" for fifteen cents an hour. She had a clock where she punched in and out to record her hours. Her weaving teacher, Mr. Holloway, praised Carolyn as his best weaving student.
Carolyn always loved to travel. When she was seventeen, Carolyn took a trip to Carmel, California with Evelyn Zannis on the train "El Capitan". They visited Mary Ellen Bryant whose father was a commander at the Naval base there. The three of them went to San Francisco for an adventure. The hotel manager had to call Mrs. Bryant for her permission. (This was in 1945 when we all were 17!!).
Carolyn's Young Family, and Life on Cornell Street in Dearborn
Carolyn married Paul Austin in 1949 at Martha Mary Chapel at Greenfield Village with the reception at the Dearborn Country Club. Mrs. Clara Ford attended the wedding. Carolyn's bridesmaids were Gratia Holtz (her cousin), Evelyn Zannis and Patsy Damon. Her wedding gown was beautiful and she still has it! Carolyn and Paul's honeymoon was in Norway where they attended the University of Oslo. They had three daughters: Julie Lynn, Denise Margaret and Carolyn Michelle ('Lyn').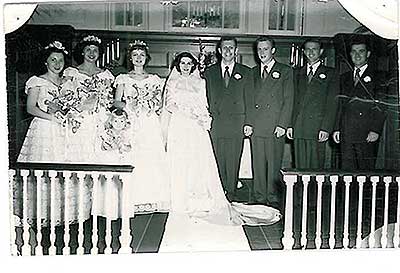 The family lived at 3347 Cornell, Dearborn Michigan. It was a small house with a beautiful yard and a much used screened in back porch. The neighborhood was mostly young families in their newly built homes, enjoying raising their children together. It was a unique setting - the parents were friends and socialized regularly with each other. The children played together and loved visiting each other's homes. Dearborn had much to offer - the park and recreation department at O.L. Smith School and Camp Dearborn in Milford, Michigan. They went to "Family Night" at O.L. Smith pool and gym on Friday nights where Carolyn and Paul played volleyball and then swam. Carolyn was an excellent swimmer and was the life guard there for several years.
Carolyn's family enjoyed the Brundages, the Vandenbroeks, the McCartheys, the Morvecks, the Giblins and other families on Cornell street. Wonderful family vacations included a few weeks each summer at Camp Dearborn with some of theses families and going up north to Grayling. Nancy Helwig and her three daughters Kim, Laurie and Susie were also close friends of the family. The Austin family also enjoyed Clayton and Ina's cottage on Elizabeth Lake near Keego Harbor and there were frequent visits to their home on Golfview Drive in Dearborn.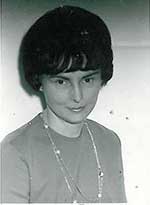 Carolyn and Paul divorced in 1966. Carolyn began substitute teaching and then earned her teaching degree from Eastern Michigan University in 1967. She taught for the Southgate Public Schools for eighteen years. Even though teaching was hard at times and she had some very challenging classes, she enjoyed putting together slide shows for her geography lessons from photographs of different trips she took. She earned her Master of Arts in Teaching in 1976. She retired from teaching in 1986. During these years, Carolyn took several trips to Europe including Portugal and Mexico. She went three different summers with her friend Shirley Mooney. They had fun adventures and Carolyn even went parasailing in Mexico!
Julie, Denny and Lyn - Carolyn's Daughters
Julie Lynn was born on June 17, 1952. Carolyn loves the story about her mother, Ina, playing cards poker party with her friends and taking bets on Julie's birth weight. Ina's bet was five pounds and she was the closest - won the bet! Julie enjoyed organ lessons starting at age eight and then Carolyn got Julie her first guitar at age twelve. She's still playing guitar today and musical performance and education has been her career. Julie enjoyed Greenfield Village School from kindergarten through sixth grade and has reunions with her classmates as Carolyn did. She lives in Atlanta with her fiance, Dr. Marty Finkelstein who is a chiropractor, writer and musician. Her website is JulieAustin.com.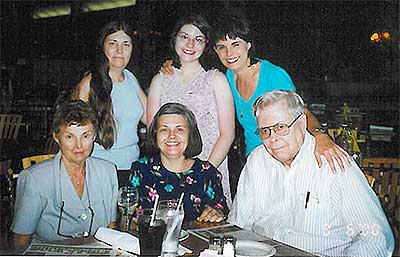 Denise Margaret ('Denny') was born on January 14, 1954. Denny also attended the Village schools. Carolyn remembers that Grandpa Clayton bought Denny a Good Humor truck which she loved. She was very close to her Grandpa Clayton. She got her nursing degree at Eastern Michigan University and married Barry Deschamps. They live in Rochester, Michigan. Denny has three children. Amelia received her degree from University of Michigan. Corey attended Oakland University in Rochester. He works at Whole Foods in the meat department and is being trained as a master butcher. Amanda received her degree in writing and is employed in Rochester.
Carolyn Michelle ('Lyn') Austin was born on June 4, 1957. As a child, Lyn would put a blanket on the organ bench with rope and pretend she was riding a horse. She has had many adventures including work with horses and became a certified farrier. She lived out west for ten years, worked at Camelback Spa the Pritikin Institute and and has been a professional massage therapist for over twenty years. Lyn has worked extensively with many touring artists (see her website for fun quotes!). She lives with her dog, Nell, in Southfield where she is a massage therapist at Franklin Athletic Club. Lyn and Julie both visit Carolyn frequently in Florida and go on a cruise together each year. Lyn's website is handzonhealth.com.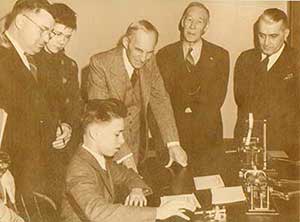 Carolyn's life with Dick Hoedl
Carolyn first met Dick Hoedl when they were six years old and in the first grade at McGuffey School. We learned to read using McGuffeys Second Reader which Mr. Ford had also used as a child. We were the first class, and we each received a model of the school. (I was told that the Smithsonian was also given one) I still have mine, 79 years later!
Mrs. Bernadine Cadaret was our first and second grade teacher. Third through sixth grade classes were divided between the Town Hall and Scotch Settlement schools. (10 in each school) Dick was not a perfect student---I remember Mrs. Mercer telling all of us (30) to 'go catch Dickie Hoedl' after he ran out after a scolding! (we chased him all over the village, never did catch him!) One of the boys classes was the Morse code, Dick excelled it. He was chosen to send a greeting to Thomas Edisons relatives in New Jersey. In the picture, Henry Ford is looking down at Dick sending the message. This was around 1940. Dick and I used to ride bikes together about this time as we were neighbors.
We met each other again in 1975 at a high school reunion. He was most impressed that I almost beat him playing ping pong at a party the next day! For my birthday the next year he gave me a ping pong table!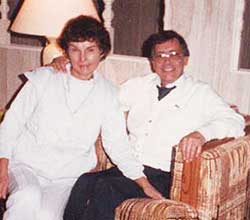 We eventually married in 1984 after Dick was transferred to Florida, and I left teaching. We lived in Briar Creek, where I still live today. His two sisters, Pat Monteith and Monsie Cameron still live in Michigan. Dick had three children, Dean, Nancy and John. They all have had very successful careers.
Dick died in 2002 and we all miss him.
Moving to Florida in 1986
Carolyn had visited Florida many times and always dreamed of moving there. After her marriage to Dick Hoedl, she was able to move with him and found her lovely home overlooking the water in Briar Creek. As much as she enjoyed her friends and family in Michigan, she moved to Florida in 1986 and got established with her new community. Their first friends were Char and Dick Kent, and Yaeko Parrish. Dick had a great sense of humor, enjoyed Ina, loved and supported Lyn, Denny and Julie. He encouraged Mom to weave, even when her looms and yarn threatened to take over the house. He loved Florida and living there was a highlight in their marriage. Carolyn and Dick travelled and did several Elderhostel trips including Hawaii, British Columbia and Alabama. Dick always supported her interest in weaving. Carolyn remembers going to the safety deposit box at the bank with Dick and him saying, "I better not find any yarn in here!"
Carolyn's sister, Marjorie Elmer ("Margie")
Marge always loved being a photographer and contributed many photos to the "Herald", a publication of the children's compositions and accomplishments at Greenfield Village. She went on to work as a photographer for newspapers and as a school photographer. She then became a real estate agent and lived close to Carolyn in Briar Creek. Carolyn took her to her first AA meeting. She had a circle of friends from Alcoholics Anonymous and attended meetings regularly for over 40 years. Carolyn was a loving sister to Marge throughout her life, helping her in many ways such as driving her around for real estate business when Marge could no longer drive and having her come over on the weekends after Marge moved away from Briar Creek. Marge was always very appreciative of Carolyn. Marge passed away in 2012 in relatively good health at the ripe old age of 87.
Carolyn's Life in Florida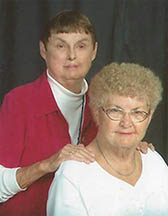 Carolyn has many friends at Briar Creek and her Michigan friends and family visit her in Florida. Carolyn has been very active in the Pinellas Weaver's Guild and has three looms set up to make scarves, rugs, coasters, placemats, rugs and other hand woven articles. She has taken many classes over the years and continues to experiment and make new fiber art creations.
Carolyn sometimes travels to Michigan and Georgia to see her daughters and friends. For the past several years, she had participated in the Decatur Holiday Arts Festival in Georgia where she and Julie sell her beautiful hand woven chenille scarves, knitted hats and "Party Around Your Neck" necklaces. People love her work and the sale is fun and always very successful. She has many repeat customers who continue to buy her new colors and styles.
Carolyn meets with friends to share knitting, crafts and weaving projects. She enjoys her Briar Creek Community and hosting gatherings in her lovely "Florida room" where everyone can enjoy the many birds and other wildlife right outside her window. She loves being able to weave and be inspired by the colors and beauty of nature.