Soul Scarves - Fanmail
Fanmail - May 26, 2013
A few years ago, I happened to receive a handwoven chenille scarf by Carolyn, given to me as a gift from her lovely daughter Julie. I had to choose one from a selection of four, which was not an easy decision. Each one I wrapped around my neck expressed its own unique beauty of color and texture from rich deep reds to divine blues, earthy tans and browns, and healing greens. This gift that Julie was presenting me all of sudden became very challenging - WHICH ONE do I choose? And that is how IT happened. Any of these would have been perfect, but I had to surrender and simply ask my own divine spirit which one of the four was resonating with my soul this moment. I began to feel each of Carolyn's scarfs radiate with a language all its own...I began to hear it speak to me.
These were not ordinary scarfs. These were made with healing love and I could feel the healing each one seem to bring me, but which SOUL SCARF would it be...Ahhh that is when the words came out...these are soul scarfs, healing scarfs ... and then the deep red/fuschia scarf and my soul united. At that moment that scarf spoke loudly and clearly connecting to me. Since then I have obtained a collection of Soul Scarfs, which I wear in all seasons, and everywhere. These scarfs have become part of my own mystique, and soul signature. I have even worn them playing tennis, dancing and officiating a wedding!
But it is important to understand these scarves do manifest a healing quality that is woven through the yarn, through the loom, through the colors, and through the very healing thoughts that Carolyn has as she looks out her window overlooking a beautiful serene waterway. Through ancient times woven material has been passed down or given to others to comfort, support, empower, and heal. As someone in the healing profession I can promise you that if you are fortunate enough to receive a Carolyn Soul Scarf, you will feel empowered by its healing magic.
Carolyn, you are so special and thank you for bringing such beautiful daughters into the world and of course Julie. May this new year be blessed with divine creative energy to continue to feel the healing grace of vitality creating many more Soul Scarfs to share with family and the connecting weave of soul friends. HAPPY BIRTHDAY, TO THE BEST! ~ Love, MARTY
Fanmail -May 14, 2013
I have theJoseph's Multi-colored Coat Scheme Scarf. It's striped across the 5 " scarf in 2 3/4" wide sections each separated by a 1/4" dark purple stripe. There are 22 sections of color, some solid, most are heather blends. No two are alike. None are a simple color. Even the ones that could me described as green (3 shades), or red (2 shades), or blue 94 shades) or orange , or coral, or gray or maroon have more going on with them than a solid color. One heather patch is made up of finelines of purple, black, copper, and dark bluish green. Another heather patch is make up of stripes of black, copper and bronze. At the ends of the scarf are dark purple 1" stripes with 1" long lighter purple or violet fringe at the very ends. The scarf is made of a cushy cottonish fabric that is always comfy around the neck whether I am indoors or out, near a heat source or not. It's easy to forget it is around my neck until someone compliments me on it. ~ Bruce Worman
Fanmail -May 20, 2013
The only thing I don't like about Carolyn's fabulous scarves is the difficulty of selecting one - I want them all! I LOVE the two I have, and in cold weather won't leave home without one. Thanks, Carolyn! ~ Cis Hinkle
Fanmail -May 24, 2013
Carolyn, I love wearing the scarves you made. I feel all dressed up and elegant. I think I have a better time, too! Thanks for sharing your gifts with so many people! ~ Love, Linda
Fanmail -May 24, 2013
My scarf that Carolyn made is the most beautiful color of blue with lovely subtle green stripes at the bottom. . . it shimmers, and so do I whenever I wear it. . . I always get so many compliments and comments from people who see it. . . I like to combine it with the sparkly, woven amulet necklace that she so generously gave to all the divas when she was in town for one of our sings together. . . what a lovely and talented lady! thank you and Happy 85th Birthday! ~ Jan Smith
Fanmail - May 24, 2013
Happy Birthday To a beautiful soul. My favorite connection to you is through your wonderful stories of Greenfield Village. We are kindred spirits When it comes to our love of the village. Thank you for sharing with me all the stories of your youth there, from weaving to all the many changes there over the years. ~ Craig Kukuk
Fanmail - April 23, 2013
Carolyn's scarves, with all their textures and colors mixed with love, have been an essential part of our fall and winter wardrobes. They are not only beautiful but are equally functional as they provide the warmth we seek in the Michigan winters. We enjoy wearing these vibrant colors and designs to brighten our mostly grey days. We so appreciate your creativity and love, Carolyn. Happy birthday! ~ Yvonne
Fanmail - April 15, 2013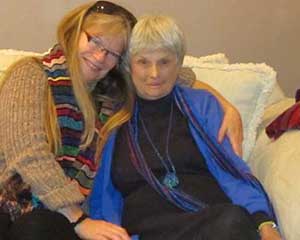 It seems that I have fallen in love with a scarf that your hand has made. I purchased it from Julie while visiting Virginia's house where we often meet to sing... It was love at first sight....It is a shorter, rainbow colored scarf. I love the richness of the colors, the texture, the weight, the length, the quality of it....I wore it virtually everyday while at a vocal improvisation workshop in Tenerife SPAIN over the holiday break. I was inspired to sing improvisationally about it during one of our first vocal exercises as I gazed at its rainbow colors and then out to the big blue sea. I had been injured by a fall at the airport and having my scarf and knowing that it signified to me that I was carrying my friends' love and voices with me was very comforting....I slept with this scarf and also used it as a wonderful eye covering in the morning when I  wanted to sleep in more...I am wearing it now....It is a beautiful new companion and I am so very grateful to you for having created it. I know that it see many more of life's adventures with me.... ~ Cherilynn Morrow
Fanmail - April 16, 2013
After seeing all your lovely scarves in their home, I just had to drop you a note and tell you how much we have enjoyed our scarves over the past couple of years. Not only do they keep our necks warm, but your excellent craftsmanship and color choices make them such an artful addition to our wardrobe. We've also really enjoyed the charming coasters that Julie has given us over the years. We use them everyday and think of you often. You do lovely work, Carolyn! I know both Julie and Lyn are very proud of you. ~ From Stu and Janna Zonder