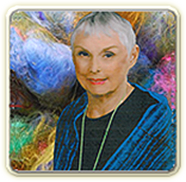 Carolyn Hoedl was a master of weaving and the fibre arts.
Known for her chenille 'Soul Scarves' and woven art, each piece is a delight to the senses and has what can only be described as a unique 'magnetic' appeal.
Carolyn Hoedl passed peacefully on July 16, 2016 with family by her side. Carolyn first learned to weave at the McGuffey School in Greenfield Village, Dearborn, MI, in 1935. Henry Ford created Greenfield Village as a living museum. He was most interested in education and started a small school there. Each class had twenty students and Carolyn attended from first through twelfth grade. Carolyn loved the Village. Mr. Ford's philosophy was "learn by doing" and students were exposed to many diverse skills. Weaving was her favorite class and she excelled. She began weaving mats and purses on a simple loom in the first grade, and went on to a four harness table loom, and then to floor looms in high school. After graduation from high school, Carolyn went on to get her own floor loom. She wove coat material in 1948 for her honeymoon trip to Norway. Later she wove drapery material for her first home. After retiring from teaching school, Carolyn began weaving again in Florida, where she currently resides and is active in the weaving community. Her home studio often has three looms set up for her various projects. Her beautiful view as she weaves overlooks the water. Sea birds, flowers, trees, nature and the sky are her inspiration for the colors she chooses. For the past several years, Carolyn has participated in the Decatur Holiday Marketplace in Georgia where her scarves, fiber necklaces (called 'Party Around Your Neck'), multi colored rugs, drink coasters, kitchen towels and shawls are very popular. Carolyn blessed many friends with the gifts of her creations! Allow yourself to experience your mood shifting on a chilly day as you decorate yourself with a gorgeous "Soul Scarf" by Carolyn. Learn more...